Choice for Dumpster Rental Cicero NY
When looking for a dumpster rental Cicero NY, Demarco Dumpster is the place to go for dumpster services Cicero NY. With over three decades of experience and dedication, you will have the best process working with us. Our customers value our professionalism, honesty, and quality service which is why we are committed to those values. When customers search for dumpster rental Cicero NY, they trust Demarco Dumpster with their disposal needs.

Serving all of Cicero, New York and surrounding areas, Demarco Dumpster remains the #1 dumpster company Cicero NY. We have the largest selection of dumpster sizes in the area. Our various sizes of dumpsters ensure our customers can get the right dumpster for their projects. Our bins are durable and clean, which means getting rid of project waste and unwanted junk is a simple task. Your dumpster North Cicero will be dropped off on time when renting with us because we are a company you can trust to deliver on their promises.

After three decades of being in this business, we have seen it all! Our customers trust us when it's time to rent a dumpster Cicero NY needs because they know there is nothing we can't handle. We know what a pain it can be to dispose of waste, which is why we make the process easy! Our online booking system allows you to book your dumpster rental Cicero NY whenever you want at your convenience. We can promise you the system is user-friendly and secured so you know your personal information will remain safe. Aside from convenient online booking, we have 24/7 emergency support available with customer service that is dedicated to making your dumpster North Cicero NY booking easy. Any questions, at any time, you can count on the fact that Demarco Dumpster will be available!
Variety of Uses for Dumpster Rental Cicero
There are many reasons to book dumpster rental Cicero services for your own home, commercial office space, roofing job, or recycling needs! Whether you're a homeowner remodeling a bathroom or a contractor who needs ongoing Cicero dumpster rentals, our team of experts will help you get the job done right the first time. Once you've filled your container, our experienced drivers will haul the waste to Camillus Landfill, where we dispose of all materials in accordance with city, county, and state regulations. We do our part to keep our city safe and trash-free!

Choosing the right size dumpster rental Cicero can be a confusing task for many people, but that's what we are here for! Figuring out how to rent a roll off dumpster Cicero shouldn't want to make you postpone your project because it's too confusing. At Demarco Dumpster, we have an online sizing guide that can help you determine what size dumpster rental Cicero you need for your project. Still not sold? No problem! You can call us anytime at (315) 675-4400 to get help determining what size dumpster in Cicero rental you need. We aim to deliver high-quality dumpsters at affordable prices.
Local Residential Dumpster Cicero Rental
Residents in Onondaga County and surrounding areas trust Demarco Dumpster with all of their dumpster Cicero needs. We are the #1 choice for all residents when it comes to residential waste disposal needs. Residents choose us because the process is quick, easy, and convenient. When you're ready to rent a dumpster Cicero, book with us. We have an experienced, friendly, and knowledgeable team that's happy to help you through your project.

The reasons homeowners and individuals use our dumpster rentals Cicero NY range from smaller DIY remodeling projects to full-scale renovations. Clear out the garage, get rid of the clutter, or rip up the carpet with the help of our Cicero dumpster options.

Residential projects can be small or large, which is why our various sizes of dumpster Cicero make us a versatile choice for a wide scope of projects. Cleanout jobs and renovations can be tiring and the last thing you want to do is worry about how to dispose of the waste. That's why residents trust Demarco Dumpster to get the job done. Book a small dumpster rental Cicero NY to help with your residential needs. You can count on our durable containers to handle all your residential junk and trash. No more putting off those household project. Let our trusted dumpster company in Cicero help you take care of it!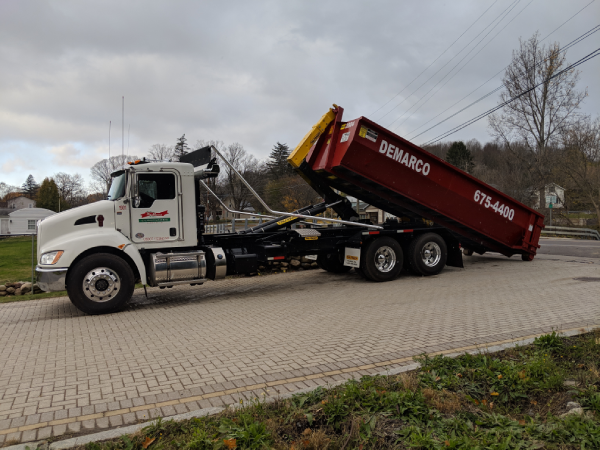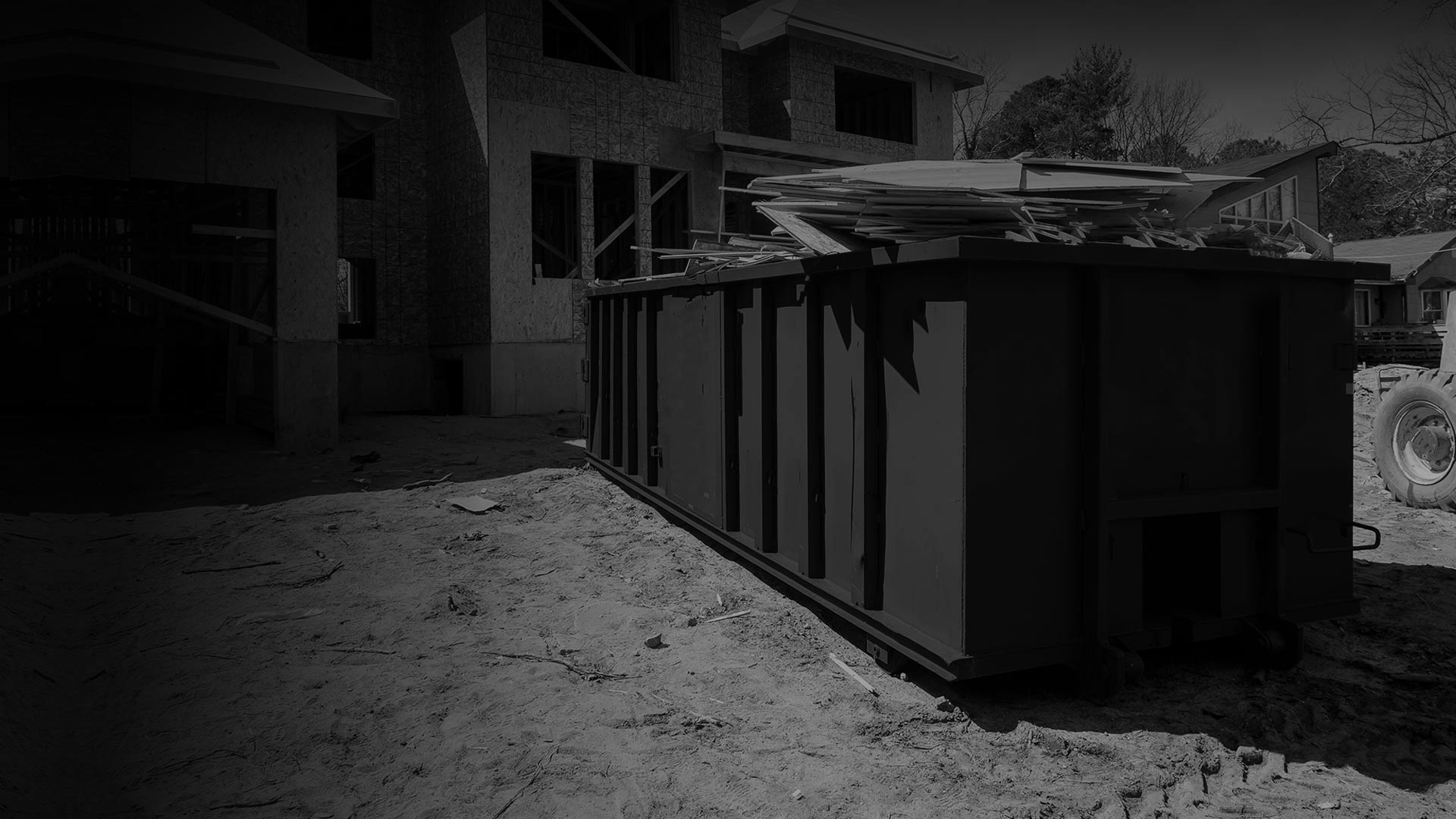 Cicero NY Dumpster Rental for Yard Waste
It's easy for yard waste and landscaping debris to pile up, but with our expert Cicero NY dumpster rental options, it's easier than ever to clean up the mess and make your house look beautiful once again. Whether you're redesigning your flowerbeds, cleaning up after storms, or hauling away seasonal brush, using one of our dumpsters, Cicero, NY will help make your yard project a breeze.

When you book with us, you're choosing the most reliable and experienced Cicero NY dumpster rental company. We offer transparent pricing, online booking, flexible scheduling, and a no-mess pick up, so you can focus on making your yard as enjoyable as ever. Increase the curb appeal of your home by clearing away the brush and debris with one of our Cicero dumpster rentals.
Looking For Construction Dumpster Cicero, NY?
At Demarco Dumpster, we offer the largest dumpster Cicero, NY selections in the area! Construction projects can be big and there are a lot of steps that have to be checked off. Don't add waste removal to your list of problems to keep up with. With over three decades of experience, we know what to expect with construction projects and that's why we are committed to having the best construction dumpster service Cicero has to offer.

Our construction dumpster Cicero, NY is the ideal waste management tool for your construction-related projects. Job site cleanliness and safety are important in construction projects. You need reliable Cicero dumpsters to ensure your job site is up to its standards. With our durable trash bins placed in a centralized location, you can keep your job site clean, safe, and more efficient. Make your construction site waste removal easy with Demarco Dumpster. Get in touch with us today to learn more about how to reserve one of our roll off dumpsters Cicero for your job site.
Best Roofing Dumpsters Cicero
Looking for the best dumpsters Cicero for your next roofing project? Look no further than Demarco Dumpster. Roofing projects for residential or commercial owners can be a daunting task. We are the go-to company for these projects because we make the task an easy process. We offer flatrate dumpster rental Cicero prices so you know exactly what you're getting into from the get go. Our durable, clean dumpsters in Cicero, NY are exactly what you need to confidently complete your roofing job with ease.

You can't take on a roofing project without a proper disposal bin that can handle the material. Size and quality matter when it comes to dumpsters Cicero for roofing projects. Whether you have a residential or commercial roofing project coming up, our roofing roll off dumpsters Cicero NY will help keep you stay organized and efficient on the job. What makes us stand out from our competitors is that our dumpsters - Cicero, NY are actually equipped to handle the roofing materials for your project. We accept all kinds of roofing materials and our large-sized dumpsters can certainly handle the job. Book online today!
Commercial Roll Off Dumpster Cicero
Whether you own and operate a business or manage the onsite maintenance, our selection of commercial roll off dumpster Cicero options will keep your commercial space looking (and smelling) great. Whether you're need ongoing commercial rolloff Cicero waste management needs or just need assistance clearing out an office space, we're here to help.

For industrial and factory options, our Cicero waste management roll off dumpsters are a great choice to haul away the waste with ease. Businesses generate lots of waste and it's important to manage and dispose of it in a timely, efficient, and safe way, which is why we consistently partner with local businesses for their roll off dumpster Cicero needs. Our Cicero garbage roll off containers are perfect for ongoing commercial needs. Give us a call at (315) 675-4400 to discuss your Cicero garbage dumpster options or reserve your container online today!
Why Choose Us for Your Dumpster Rentals Cicero
Friendliness, cleanliness, and promptness are just a handful of reasons to choose us for your dumpster rentals Cicero. Our team of qualified, experienced drivers work hard to answer your questions, drop off without damaging your driveway or property, and remain on standby to come haul away the container as soon as you're ready. We pride ourselves in offering amazing customer service and competitive prices.

While we can't promise we're the cheapest or offer discount dumpster rental Cicero NY, we do guarantee quality service, competitive rates, and unbeatable recommendations. Our repeat customers understand how important it is to work with small businesses you trust, which is why we're the premiere dumpster rentals Cicero provider. Get in touch with us by calling or texting at (315) 675-4400 or browse our website for more information about how we can best support your project today!
How to Book a Dumpster Cicero NY
Book your dumpster Cicero NY and get started on your projects today with a simple click of a button. Our convenient online booking tool allows you to pick the specific size dumpster rental in Cicero NY you need, choose your preferred drop off and pick up days, then check out! We're available by text or phone call at (315) 675-4400 to go over your dumpster Cicero NY options or you can book online right now!
We pride ourselves on being quick, efficient, and communicative. As soon as you're finished with your roll off container rental Cicero NY, call or text us and we'll be there ASAP to haul away the mess. If you have any questions about our dumpster rental prices Cicero NY before booking your container, get in touch with our friendly experts to go over your options.

We understand that if this is your first time booking a dumpster Cicero NY, you might have questions or concerns, which is why we're available to answer 24/7 by text and offer emergency support in the even that something unplanned occurs and you need additional help.
Sizes of Dumpster Rentals in Cicero NY
Each project is unique and requires different tools to get the job done right the first time, which is why we offer a variety of sizes of dumpster rentals in Cicero NYfor residential, commercial, or construction needs. Not sure which size roll off dumpster rental Cicero is the best fit for you? Give us a call or text at (315) 675-4400 to go over your options.

Our first size dumpster we have to offer is a 15 yard dumpster perfect for most projects. This dumpster rental, Cicero is the perfect size dumpster for a lot of projects because it's not too small, but also not too big. These are great dumpsters to use for deck tear-downs, basement cleanouts and kitchen or bathroom remodels. This dumpster holds 15 cubic yards of material and has a 1-5 day rental option. You can't beat the price of this dumpster starting at $240. This is the perfect high-quality dumpster you need for your project.

The second size dumpster we offer is a big 30 yard dumpster. This dumpster can handle any job you give it. Its large dimensions make it perfect for large cleanouts, demo projects, construction sites, and large-scale commercial projects. Starting at only $400 with a 1-5 day rental option, this dumpster holds 30 cubic yards of material. Choosing your waste management discount dumpster rental Cicero, NYprovider is an important choice, so make the right one by choosing Demarco Dumpster for your roll off dumpster rental Cicero NY needs.
Providing Roll Off Dumpsters Cicero NY and Surrounding Areas
Booking roll off dumpsters Cicero NY should be an easy task. Demarco Dumpster is committed to making sure the process is easy and painless for our customers. When choosing a dumpster rental East Cicero NY company, choose one that is dedicated to making their customers' lives easier.

Booking a dumpster rental near Cicero NY with our experienced team takes no time at all. The process is simple: Go to our website and choose which size dumpsters Cicero NY is right for your project. If you don't know, use our convenient sizing guide or give us a call and we can help! After you choose which one of our high-quality dumpster service Cicero NY rentals is right for you, click book now and add it to your cart. From there choose your dates for the rental and fill out your information and just like that your dumpster is booked!

Once your dumpster services in Cicero is booked with Demarco Dumpster, the day of delivery should be smooth. We promise your dumpster will be delivered on time and clean and ready to go for your project. We even offer same-day delivery in case you are in a bind. Once you are finished using your dumpster rental Cicero, NY, you don't even have to call. We know how important your time is, so we have a text option where you can just text us you are done and we'll pick it up! It doesn't get easier than that!

We don't take our job of keeping the Salt City clean and beautiful lightly. Demarco Dumpster proudly offers dumpster services in Cicero New York and Onondaga County. The zip codes we service specifically for Cicero are: 13202, 13202, 13203, 13205, 13206, 13207, 13208, 13209, 13210, 13211, 13212, 13214, 13215, 13219 and 13224. We also service the following locations: Cicero, Fairmount, Liverpool, Fayetteville, Manlius, Jamesville, Lafayette, Skaneateles, Auburn, Weedsport, Elbridge, Jordan, Village Green, Phoenix, Brewerton, Central Square, Baldwinsville, Bridgeport, Fulton, Cazenovia, Oswego and all areas in between! If you don't see your zip code or service area, don't worry! We might be able to accommodate your waste disposal needs with our dumpster service Cicero. Give us a call today!
Demarco Dumpster Cicero NY Dumpster Rental FAQs

Booking a Cicero dumpster rental is made easy with Demarco Dumpster. We're committed to serving our customers with the highest quality waste removal equipment and the best customer service experience possible. We offer multiple ways to get in touch if you have any questions regarding your dumpsters rental Cicero NY. For now, we have compiled a list of frequently asked questions regarding our Cicero dumpster rental services, please take a look at the questions and answers below for more information on our roll off dumpster Cicero NY services:
Call Us Today!
We invite you to reach out to our team at any time with any questions at (315) 675-4400. We're here to help make the process of getting a dumpster simple and hassle-free. We understand that you have a lot on your plate, so why not let us help you check "rent a dumpster" off of your to-do list?

Get ready to streamline your waste management system with Anthony DeMarco & Sons LLC. Taking out the trash has never been easier!